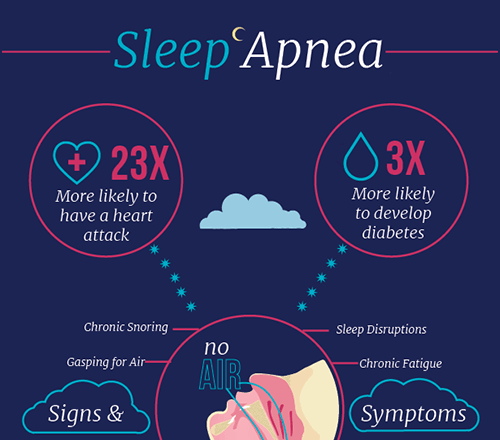 What is sleep apnea?
There are three types of sleep apnea: Obstructive, Central, or Mixed/Complex. Dr. Hardy is able to help treat Obstructive Sleep Apnea, which is the most common form and relates to airway obstruction instead of communication barriers between the brain and breathing muscles. An apnea is an increment of time in which breathing is severely reduced or stops altogether. When this occurs during sleep, the time your body is supposed to be recovering and processing the events of your day, it can lead to serious and even deadly side-effects.
Do I really need treatment?
On a surface level, it might seem like sleep apnea is more of a nuisance than a hazard to your health. However, if you think about how crucial restful sleep is and how your body reacts to a lack of it, it's easy to see how the following consequences can befall you if you forgo treatment:
Low blood oxygen levels
Cardiovascular disease
Hypertension
Coronary artery disease
Heart attack
Stroke
Arrhythmia
Diabetes
Glaucoma
Metabolic syndrome
How is sleep apnea treated?
While the standard treatment for sleep apnea is a Continuous Positive Airway Pressure (CPAP) machine, many patients struggle with them. It involves wearing a mask that will manually push air in and out of your lungs, but this mask can be uncomfortable, inconvenient, and noisy, too. Because of this, patients don't experience the kind of restful sleep they were hoping for.
Is there an alternative?
Absolutely! Dr. Hardy is able to custom-fit an oral appliance that comfortably adjusts your lower jaw and prevents the base of your tongue from blocking your airway. After a thorough examination of your teeth and mouth that includes x-rays and impressions, a SomnoDent MAS will be fabricated for you to wear at night. You'll still be able to fully open and close your mouth, yawn, drink, speak clearly, and best of all – reclaim restful sleep!
Need some reassurance? The SomnoDent has been independently studied and demonstrated significant clinical benefits, with 91% of patients reporting improvement in their quality of sleep. The device is made with the highest quality acrylic and is durable while offering unparalleled comfort. The SomnoDent also comes with a warranty against manufacturing defects, so you can have full confidence in the product.