Inlays & Onlays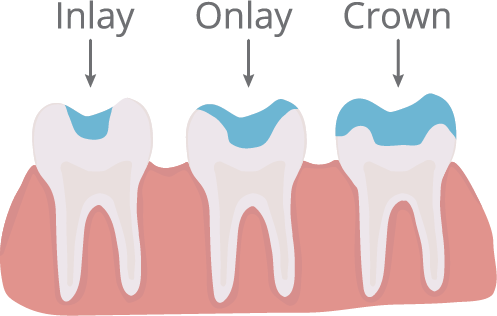 Inlays and onlays are an in-between treatment for tooth decay. They're a step up from a standard filling, and a step below a dental crown. If the decay of your tooth is contained within the cusps of your tooth (outer ridges), but too deep for a standard filling, an inlay can protect you from further damage. Onlays are larger and can cover the biting surface of your tooth. Both of these treatments are completed with tooth colored materials and are meant to strengthen remaining tooth structures after large cavities are removed.
Dental Bridges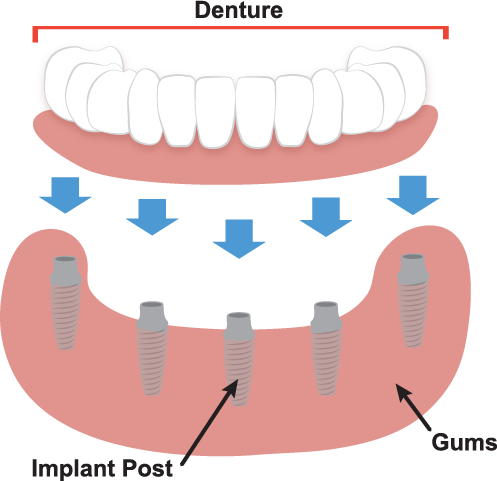 A dental bridge is a fixed prosthetic device used to close the gaps where a missing tooth (or multiple) once was. There are different types depending on the location of the missing tooth or teeth: traditional, cantilever, and Maryland bridges.
A traditional bridge is the most commonly prescribed, and can be used when the gap from a missing tooth is between two healthy teeth. The adjacent teeth will be filed for the placement of crowns, which will support what is called the pontic – the artificial tooth.
A cantilever bridge is called for when there is only one neighboring tooth to support a pontic. These can be trickier, because typically the placement is in the back of your mouth where your molars reside, and these teeth take on a lot of force.
Maryland bridges are different from traditional and cantilever bridges because they're placed without forming abutments of your neighboring teeth. The pontic of a Maryland bridge is held in place by metal or porcelain framework, which is then bonded onto the backs of the adjacent teeth. This process is more conservative than that of traditional bridges, but the traditional bridge tends to be highly recommended because of its durability.
Dr. Hardy and Dr. Wilson can discuss your options with you, and would be happy to help you when you make a decision you feel confident about. We place bridges not just to restore your smile's aesthetics, but because gaps can cause surrounding teeth to shift, resulting in a bad bite.
Full Mouth Reconstruction
More comprehensive treatment plans that affect all of your teeth are referred to as full mouth reconstruction or rehabilitation. The end result is one that will provide an esthetic makeover, but will also return the full function of your teeth. The following is a short list of reasons full mouth reconstruction may be needed:
Tooth loss from decay or trauma
Injured or fractured teeth
Excessive wear of teeth due to acid-erosion (foods, beverages, acid reflux) or teeth grinding
Chronic pain due to jaw pain and a misaligned bite
Reconstruction may consist of porcelain veneers, crowns, inlays or onlays, bridges, or dental implants, but could also include gum treatments and bone grafting.
Full mouth reconstruction procedures are performed to vastly improve the quality of your life, with the added benefit of creating a beautiful smile. This is how it differs from Smile Design, which focuses purely on bringing out the beauty of your smile instead of its function. You deserve a life free of dental woes, and we're here to help you obtain it.